BANGKOK, Thailand - Some coral reefs may be protected from global warming by a natural thermostat that regulates sea-surface temperatures in the open ocean, researchers said Wednesday.

The research team led by reef specialist Joan Kleypas studied a region of ocean northeast of Australia where surface temperatures have risen little since 1980.

Reefs there suffered fewer episodes of bleaching, which is when corals expel the colorful, microscopic algae that provide them with nutrition. Bleaching episodes, triggered by warming water, can be deadly for the coral and have damaged nearly half the reefs worldwide.


"Global warming is damaging many corals, but it appears to be bypassing certain reefs that support some of the greatest diversity of life on the planet," said Kleypas, who works at Australia's National Center for Atmospheric Research.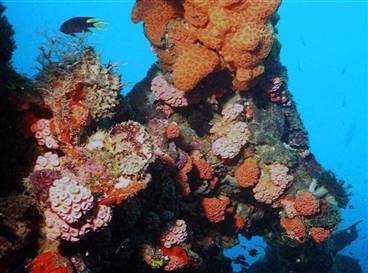 A coral reef is pictured off Townsville, Queensland, Australia, in a 1998 file photo. Some reefs may be protected from global warming by a natural "thermostat" that regulates sea-surface temperatures, researchers say.

"In essence, reefs that are already in hot water may be more protected from warming than reefs that are not. This is some rare hopeful news for these important ecosystems."

Kleypas said the study, which appeared last week in the journal Geophysical Research Letters, lent support to a much-debated theory that a natural ocean thermostat prevents sea-surface temperatures from exceeding about 88 degrees Fahrenheit in open oceans.

The theory says that as surface waters warm, more water evaporates, which can increase cloud cover and winds that cool the surface.

"Since the 1960s, people have been talking about how the open ocean can get only so hot," Kleypas said.

Terry Hughes, an Australian reef specialist at James Cook University who was not involved in the research, called the study "novel" and said it shows some parts of the ocean could serve as a refuge for reefs as oceans warm.

"An exciting inference is that warm-adapted strains of corals are less likely to bleach," Hughes said in an e-mail interview. Larvae from coral in tropical areas "could potentially migrate to cooler areas that are warming rapidly," he said.

He said similar migrations occurred during rapid warming periods in the past.

Coral reefs face a myriad of threats, including overfishing, coastal development, pollution, and changes to ocean chemistry caused by rising levels of carbon dioxide in the atmosphere.

But Kleypas said global warming is among the most dire since it causes ocean temperatures to rise, leading to coral bleaching. Unless the ocean quickly cools, allowing algae to grow again, bleached corals often collapse and die. Up to 40 percent of reefs have been hit by bleaching since 1980, Kleypas said.

Bron: The Associated Press.